Breast Gynecomastia/Male Breast Reduction
Music City Plastic Surgery is a leading provider of cosmetic surgery in Nashville / Franklin, TN and is proud to offer a range of breast procedures to help patients improve their contours. Gynecomastia treatment, also known as male breast reduction, is a popular procedure among men who are unhappy with the appearance of excess breast tissue. Using advanced techniques, Dr. Michael Burgdorf helps Nashville male breast reduction patients achieve the look they desire.
You may hear the term "breast reduction" and think this surgery applies only to women with abnormally large breasts. The truth is that men can suffer from large breasts as well. According to gynecomastia.org, as many as 60% of men worldwide experience some form of gynecomastia. Enlarged breasts may occur on one or both sides, and may occur unevenly on each side.
Gynecomastia is one of Dr. Burgdorf's top procedures. He is board-certified in plastic surgery and has extensive training in male and female breast procedures.
Male Breast Reduction Surgery
If you still have significant bothersome breast enlargement despite initial treatment or observation, your doctor may advise surgery. Two types of surgery are used to treat gynecomastia:
Liposuction. This surgery removes breast fat, but not the breast gland tissue itself. This requires insertion of a cannula, a thin hollow tube, through several small incisions. The cannula is moved back and forth in a controlled motion to loosen the excess fat, which is then removed from the body by vacuum suction.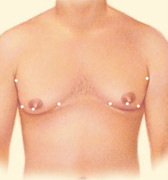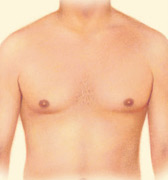 Mastectomy. This type of surgery removes the breast gland tissue. The surgery is often done on an endoscopic basis, meaning only small incisions are used. This less invasive type of surgery involves less recovery time. Excision also is necessary if the areola will be reduced, or the nipple repositioned to a more natural male contour. Incision patterns vary depending on the specific conditions and surgical preference.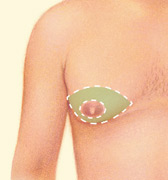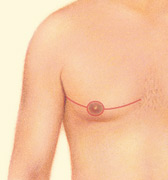 Insurance Coverage:
Many patients inquire about insurance coverage for this surgery. We are in network with most major insurance companies and are glad to file for coverage. Unfortunately, most insurance companies do not view this condition as medically necessary and deem it cosmetic. You may call your insurance carrier to verify whether or not this procedure is covered under your particular plan. We do offer the procedure at a self pay rate.
If you or someone you love is suffering from gynecomastia, please don't hestitate to schedule a consult with our office. We are happy to provide any information about the procedure to help you decide if surgery is right for you.
For more information on male breast reduction, or other available breast procedures such as breast lift, breast reduction or breast implants in Nashville, contact Music City Plastic Surgery at 615-567-5716 to schedule a personalized consultation.
Plastic Surgery Web Marketing Powered by Ceatus Media Group LLC
Credits: ASPS