Nashville Facelift Surgeon – Dr. Burgdorf
FACELIFT
"I love the results of my facelift. My hairdresser couldn't even see my scars." Charlotte M.
A facelift is a surgical procedure designed to address sagging facial skin, loose neck skin and jowls by removing excess fat, tightening muscles and re-draping the skin of your face and neck. It cannot stop the aging process, but it can set back the clock. A facelift can be done alone or with other procedures such as a forehead lift, eyelid surgery, or nose reshaping. This procedure can make you look younger and may enhance your self-confidence.

In addition to performing facelift surgery, Dr. Burgdorf offers facial fat transfer, an advanced procedure that can restore volume to your facial features, using your own fat and tissue.
Board-certified plastic surgeon Dr. Michael Burgdorf performs facelifts, neck lifts, and eyelid surgery on patients in the greater Nashville area. The procedure takes three to five hours and is performed with general anesthesia on an outpatient basis. Known for his artistry, Franklin, TN plastic surgeon Dr. Burgdorf believes that true facial beauty is achieved by bringing out the unique features of each individual patient.
Because gravity and the aging process affect individuals at different times, there is no "right time" to start thinking about a face lift. Both men and women who are concerned about improving the signs of facial aging are candidates for a facelift. If you think you might be a facelift Nashville candidate, request a consultation today or call (615)-567-5716 to schedule your visit and learn more about this procedure.
REASONS FOR CONSIDERING A FACELIFT:
Sagging skin, muscles, and fat in the face and neck.
Excess skin and fat on the neck.
Sagging jaw line.
Crease lines along the nose, mouth, and chin.
FACELIFT INCISIONS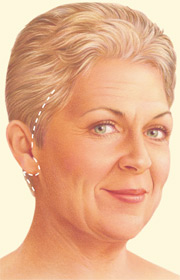 The incisions for this procedure are placed mostly around the ear, where they should be very inconspicuous when fully healed. The skin is separated from fat and muscle. Fat may be removed along with excess skin. The strength layer of the face (the SMAS) is elevated and the skin is redraped in a tension-free manner. This allows for improvement in the contour of the face without the "wind-swept" look. Incisions will be closed with sutures or metal clips which are usually removed starting after approximately five days.
FACELIFT SURGERY RECOVERY
Once the procedure is complete, you should expect temporary swelling, numbness, bruising, and tenderness of the skin. Our Music City Facelift patients may return to work in 10 to 14 days, with more strenuous activities limited for a month or more. Bruising may last 2 to 3 weeks, and exposure to the sun must be limited for the first several months. The results of a facelift can usually be seen for 5 to 10 years. This procedure is most often performed on men and women over the age of 40.
To learn if you are a candidate for a facelift, request a consultation at Music City Plastic Surgery online or call (615) 567-5716 to schedule your visit with board-certified Plastic Surgeon Dr. Burgdorf. During your comprehensive consultation, Dr. Burgdorf can discuss all of your options for facial rejuvenation, including Botox, eyelid surgery, browlift and rhinoplasty in Nashville. He can also discuss other treatments you may be interested in such as breast augmentation or tummy tuck in Nashville.
Mid-facelift Web Marketing Powered by Ceatus Media Group LLC
Credits: ASPS