Nashville Liposuction
Liposuction
Trusted for his discriminating focus on aesthetics and his meticulous surgical technique, Dr. Burgdorf is passionate about achieving beautiful natural-looking results that match each patient's body contouring desires.
Liposuction or liposculpture is among the most common body contouring procedures performed by board certified Franklin, TN plastic surgeon Dr. Michael R. Burgdorf. Liposuction targets "problem areas" of the body for fat removal.
REMOVE EXCESS FAT WITH LIPOSUCTION
You may be a candidate for liposuction in Nashville at Music City Plastic Surgery if, despite diet and exercise, you desire removal of excess fat deposits in targeted areas of your body, and you are within 20% of your ideal body weight.
Problem areas that can be addressed with liposuction: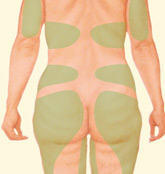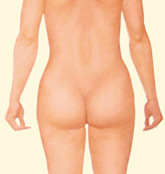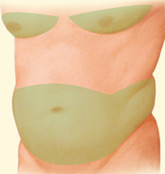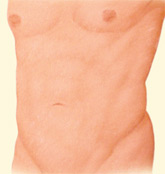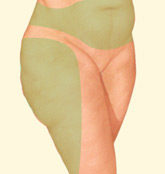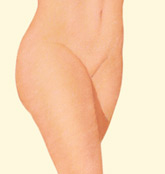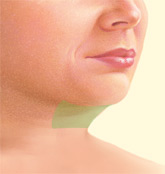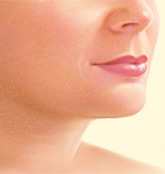 ABOUT THE NASHVILLE LIPOSUCTION PROCEDURE
Dr. Burgdorf performs his Nashville and Franklin liposuction as an outpatient procedure under general anesthesia, as administered by a board-certified anesthesiologist. Depending on the extent of the procedure and the size of the treatment area, the procedure takes between one to several hours. All operations are performed within fully credentialed and state-of-the-art surgical facilities. For our out-of-town patients, click to see our recommendations on a number of hotels in close proximity to our chosen operating rooms.
Dr. Burgdorf performs his liposuction with the addition of tumescent anesthesia (a mixture of a local anesthetic, a blood constrictor, and physiologic salt water). This helps to distend the fat cells and makes their removal safer, easier, and less painful. Often, Dr. Burgdorf will include the use of an ultrasonic liposuction system to aid with the breakdown of fat in anatomically adherent areas.
LIPOSUCTION INCISION LOCATION
Dr. Burgdorf utilizes small inconspicuous incisions to perform his liposuction. The incisions are about as wide as your finger in order to allow the canula (a straw-like suction wand) access to the fatty deposits. Oftentimes, these incisions can be hidden in the creases of your skin.
Some of the more common areas Dr. Burgdorf treats include:
Abdomen, Flanks, Bra strap area
Buttocks, Hips, Arms, Knees
Inner and Outer thighs
NASVHILLE LIPOSUCTION RECOVERY
Most Nashville lipo patients tell us they feel much better than expected following their surgery and are able to return to work and social activities within one week. To help ensure smoother, tighter results, Dr. Burgdorf will prescribe a compression garment to wear in the post-operative period. Light exercise can be resumed after several weeks, and an unrestricted return to all activities can usually occur within six weeks. The skin may take a few months to tighten fully.
Many times, liposuction at Music City Plastic Surgery can be combined with other body enhancement procedures, including breast augmentation, tummy tuck, and facelift, or be part of a comprehensive Nashville mommy makeover.
NASHVILLE, TN LIPOSUCTION RESULTS
Music City Liposuction can help you feel confident slipping into those skinny jeans, remove your worries about the overhang at your waist band, and get you that "bikini ready" body. You may find that clothes fit you "just right" after your body contouring surgery with Music City Plastic Surgery or that shopping has become fun again. Many of our patients have felt this way and we feel confident that you will, too.
If you are unhappy with your appearance due to stubborn areas of fat, liposuction surgery may be for you. Call 615-567-5716 today to schedule your private consultation with Dr. Burgdorf at Music City Plastic Surgery.
Lipoplasty Web Marketing Powered by Ceatus Media Group LLC
Credits: ASPS