Nashville Tummy Tuck Surgery
Tummy Tuck (Abdominoplasty)
Tummy tuck, also known as abdominoplasty, is a cosmetic surgery offered by Dr. Michael R. Burgdorf to patients who are seeking to reduce the size of their midsection. Abdominoplasty tightens muscles and removes excess fat and skin to achieve a smooth, flat, youthful abdomen.
You may be a good candidate for a tummy tuck in Nashville at Music City Plastic Surgery if you:
Want your "pre-pregnancy belly" back
Are embarrassed about your midsection despite diet and exercise
Desire removal of the stretch marks on your abdomen
Have had massive weight loss
Are a man who wants to trim down the "beer belly"
ABOUT TUMMY TUCK SURGERY
For your safety and comfort, Dr. Burgdorf performs the tummy tuck procedure under general anesthesia, as administered by a board-certified anesthesiologist. The Nashville cosmetic surgery procedure generally takes between two and four hours. All operations are performed within fully credentialed, state-of-the-art surgical facilities in Nashville, TN and Franklin, TN. Depending on the scope of your surgery, you should be able to go home the same day.
TUMMY TUCK INCISIONS
During the Nashville / Franklin abdominoplasty procedure, Dr. Burgdorf will make a well concealed incision across the lower abdomen, beneath the bikini or bathing suit line. Oftentimes, a previous Caesarian section incision can be utilized and/or improved upon. The naval is separated from the abdominal tissue by a second incision. The skin is then gently removed from the underlying muscle and tissue.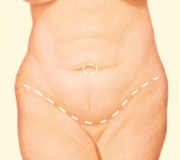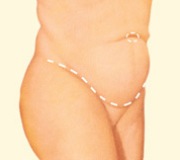 The muscles are reshaped and tightened to narrow the waistline and flatten the abdomen.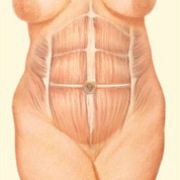 In some cases, patients may also benefit from Nashville liposuction. During this procedure the skin is repositioned and the incisions are sutured. The procedure can also be performed as part of a comprehensive mommy makeover or body lift procedure.
TUMMY TUCK SURGERY RECOVERY
Patients usually return to work in about 2 weeks, though strenuous activity will need to be limited for 4 to 6 weeks or more. Scars can take 6 months to 2 years to fade and flatten. Since this is major surgery, swelling resolution and final results may take up to 6 months to become fully apparent.
To learn if you are a candidate for a tummy tuck in Nashville or Franklin, contact board certified plastic surgeon Dr. Burgdorf at Music City Plastic Surgery for a private consultation by calling 615-567-5716. During your consultation, Dr. Burgdorf can discuss other available breast and body contouring treatments, including Nashville breast implants surgery and mommy makeover.
Mini Tummy Tuck Web Marketing Powered by Ceatus Media Group LLC
Credits: ASPS