Nashville Breast Augmentation
Breast augmentation or breast enhancement surgery is among the most commonly performed plastic surgery procedures by board-certified Nashville plastic surgeon Dr. Michael Burgdorf.
"Thank you so much for the wonderful work you did on my new breasts. I am very happy with the outcome. The recovery was easy and painless. I appreciate the time you spent with me on my consultation providing me with the proper knowledge to make the best decision. Thank you again. I could not be happier and more confident as a woman." (breast augmentation patient)
REASONS FOR CONSIDERING BREAST AUGMENTATION
Women have breast enlargement for a variety of different and personal reasons. Many of our patients tell us they'd like to have Breast Augmentation in Nashville for the following reasons:
Increase the cup size of your breast
Look more proportionate in clothing
"Fill out" or fit better in existing clothing (dresses, bathing suits, etc.)
Correct breast volume reduction that may occur after pregnancy
Correct an imbalance or asymmetry in breast size.
NATURAL APPEARING BREAST AUGMENTATION RESULTS
Dr. Burgdorf is dedicated to providing natural-looking breasts, which is why he places breast implants that are proportional and symmetrical to the rest of your body. After breast implant surgery, your breasts will appear more "shapely" and "full." Improving the contour of your breasts can help improve your self-esteem.
During your consultation with Nashville breast augmentation surgeon Dr. Burgdorf, he will assist you in choosing between the various types of saline and silicone gel breast implants. Dr. Burgdorf combines the use of an objective breast measuring system with your subjective aesthetic goals to help you achieve your desired breast enhancement result. To this end, you will be invited to try on a patented implant Volume Sizing System to get a realistic idea of how you will look with your new enhancement.
ABOUT BREAST AUGMENTATION IN NASHVILLE AND FRANKLIN
Dr. Burgdorf performs his Nashville and Franklin breast augmentations as an outpatient procedure under general anesthesia or deep intravenous sedation, as administered by a board-certified anesthesiologist. The procedure generally takes 1 hour. All operations are performed in fully credentialed and state-of-the-art surgical facilities.
IMPLANT LOCATION
Dr. Burgdorf performs his breast implants Nashville procedure using the specialized "dual-plane" technique. With this procedure, the implant is placed so that part of it resides beneath the pectoral muscle and part is under the lower portion of the native breast. The result is a more natural and youthful appearance with long-lasting results. This advanced surgical technique avoids the "operated-on" appearance associated with other techniques.
Dr. Burgdorf uses an inframammary incision, which is hidden in the natural fold of your breast. Incision length will vary depending upon implant type, your anatomy, and degree of enlargement desired.



WHAT TO EXPECT AFTER BREAST ENHANCEMENT SURGERY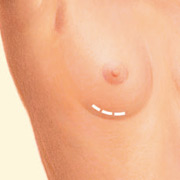 Severe pain after surgery is unusual. Any slight discomfort is easily controlled with oral pain medication. Small and meticulously placed self-absorbing sutures are usually gone within several days.
Most patients tell us they feel better than expected following their breast augmentation surgery and are able to return to work and social activities within one week. Light exercise can be resumed at two weeks. Final results can be appreciated anywhere from 6 weeks to 3 months after surgery.





SAFETY OF BREAST IMPLANTS
Numerous studies over the past decade have supported the safety of both saline and silicone gel breast implants. It's only natural to have concerns about breast implant safety, and our surgeon is devoted to helping you understand the risks and make informed decisions about your procedure.
SCHEDULE YOUR CONSULTATION TODAY
To learn if you are a candidate for a Breast Augmentation or Breast Enhancement surgery in Nashville or Franklin, contact board-certified plastic surgeon Dr. Burgdorf for a private consultation at (615) 567-5716. During you consultation you can learn about all of the breast and body contouring procedures Dr. Burgdorf offers, including breast lift and tummy tuck in Franklin / Nashville, TN.
Saline Breast Implants Web Marketing Powered by Ceatus Media Group LLC
Credits: ASPS