Mastopexy (Breast Lift)
The effects of aging, weight loss, gravity, and pregnancy can profoundly affect the appearance of a woman's breasts by causing them to stretch. As the skin loses its elasticity, the breasts often lose their firmness and begin to sag. Dr. Burgdorf performs Nashville breast lift surgery (mastopexy) to help improve the shape of a woman's sagging breasts as well as restore the nipple-areolar complex (pigmented areas around the nipple) to a more youthful position. Sometimes, breast implants may be used during a breast lift to improve both the volume and shape of your breasts. After the excess skin and breast tissue is removed, the skin is tightened to give you a shapelier breast. Improving the contour of your breasts can help improve your self-confidence.
Breast lifts are complex operations that should be performed by properly qualified and board-certified plastic surgeons. Dr. Burgdorf is a board certified Nashville plastic surgeon who specializes in all aspects of breast rejuvenation procedures, including breast augmentation, breast lift, breast reduction, and breast reconstruction surgery.
To learn more and see if you are a candidate for breast lift, contact board certified plastic surgeon Dr. Burgdorf at 615-567-5716 for a private consultation.
"Dr. Burgdorf is an absolutely fabulous surgeon and has a great personality! His staff are extremely helpful and caring. I feel like family every time I have an appointment."
ABOUT BREAST LIFT IN NASHVILLE AND FRANKLIN

Dr. Burgdorf performs his Nashville and Franklin breast lifts as an outpatient procedure under general anesthesia, as administered by a board-certified anesthesiologist. The procedure usually takes between two to three hours. All operations are performed within fully credentialed and state-of-the-art surgical facilities.
Dr. Burgdorf makes an anchor shape or inverted T incision, and then:
The underlying breast tissue is lifted and reshaped to improve breast contour and firmness.
The nipple and areola are repositioned to a natural, more youthful height.
If necessary, enlarged areolas are reduced by excising skin at the perimeter.
Excess breast skin is removed to compensate for a loss of elasticity.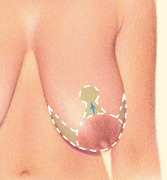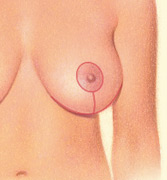 Because of his expertise in breast surgery, Dr. Burgdorf performs many different techniques to achieve beautiful, natural looking breast lifts. His state-of-the-art system focuses on individual anatomy and even allows Dr. Burgdorf to safely place implants at the same time of your breast lift procedure if you desire. During your private consultation, you will help him decide which procedure is right for you.
BREAST LIFT RECOVERY
Nashville breast lift patients are sent home with light dressings and a comfortable, form-fitted bra. Soft bra support (without underwire) is encouraged for four to six weeks. The sutures are self-absorbing. Slight to moderate bruising and swelling are common for several weeks. A self-massaging protocol is initiated after several weeks to maintain both breast and implant softness.
Our patients are surprisingly free of discomfort following their Music City Breast Lift due to the long-acting local anesthetic injections and gentle tissue-handling techniques utilized by Dr. Burgdorf. Most patients tell us they feel much better than expected following their surgery and are able to return to work and social activities within one week to two weeks. Light exercise can be resumed after several weeks and an unrestricted return to all activities within six weeks.
BREAST LIFT RISKS
When performed by a qualified plastic surgeon, the risk of serious problems after a Music City breast lift is rare. Most complications are minor, temporary, and can be easily resolved. Specific risks and the suitability of a breast lift procedure for a given individual can be determined at the time of consultation. You can reduce your risk of complications by closely following your surgeon's instructions both before and after surgery.
SCHEDULE YOUR BREAST LIFT CONSULTATION TODAY
To learn if you are a candidate for a breast lift in Nashville or Franklin, contact board certified plastic surgeon Dr. Burgdorf at 615-567-5716 for a customized consultation. During your appointment Dr. Burgdorf can discuss all of your options for breast and body contouring surgery, including liposuction and tummy tuck in Franklin, TN.
Web Marketing Powered by Ceatus Media Group LLC
Credits: ASPS