Mommy Makeover
Having a baby changes everything – and a woman's body is no exception. Board-certified Nashville and Franklin, TN plastic surgeon Michael R. Burgdorf understands that how you look can often define how you feel.
Mommy makeovers are very popular among Music City Plastic Surgery patients. Sagging breasts, deflated breasts, and excess abdominal skin can all be addressed through a combination of procedures such as breast augmentation, breast lift, tummy tuck, and liposuction. The result is a more youthful and attractive appearance – one that restores your "pre-pregnancy body."
"After my mommy make over I look even better than I did before I became a mom!"
Michelle from Brentwood
NATURAL APPEARING RESULTS IN NASHVILLE

Dr. Burgdorf places a special emphasis on achieving naturally appearing breasts, and, if needed, will place implants that are proportional and symmetrical to the rest of your body. During your tummy tuck, excess skin and fat are removed and the abdominal muscles are tightened to create a flatter abdomen. Liposuction of the flanks and trunk may enhance the overall results of your body contouring. Dr. Burgdorf takes care to make sure your belly button area looks completely natural after surgery.
While many moms choose breast enhancement and body contouring procedures as part of their Franklin mommy makeover, some decide to undergo facial procedures such as facelift or cosmetic eyelid surgery as well. And non-invasive procedures such as Botox cosmetic or Juvederm can help erase the effects of the many sleepless nights spent awake with the baby.
During your mommy makeover Nashville consultation, Dr. Burgdorf will help you determine which of the various breast surgeries is best for your situation. Some women desire fuller breasts while others seek perkier, more youthful breasts. Oftentimes, these goals can be achieved simultaneously. Many patients like the size of their breasts during pregnancy. However, after giving birth and breastfeeding, the breasts may become deflated, especially in the upper aspect. Dr. Burgdorf has found that placing a small implant after breast lift can improve both volume and shape, resulting in a fuller, perkier breast. He will also help you decide which body contouring surgery, if any, will fit your anatomic needs and your aesthetic goals.
ABOUT THE PROCEDURE

Moms trust Dr. Michael Burgdorf, a pioneer in plastic surgery for women who want to look and feel their best — and be the best they can be for their new and growing families.
Dr. Burgdorf performs the Franklin / Nashville mommy makeover procedure as an outpatient procedure under general anesthesia, as administered by a board-certified anesthesiologist. The procedure generally takes between two and four hours. All operations are performed within fully credentialed, state-of-the-art surgical facilities in Nashville, TN and Franklin, TN.
INCISIONS
Breast implants are placed along the natural breast fold (inframammary). If a breast lift is performed, the incisions may be more extensive in order to move the breast superiorly. With Dr. Burgdorf's state-of-the-art technique focusing on individual anatomy, an implant can often be safely placed at the time of the breast lift surgery.
Implant-only Incision Breast Lift Incision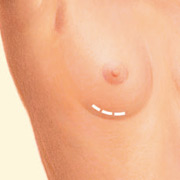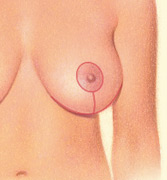 The tummy tuck scar is usually located low and well concealed beneath the bikini or bathing suit line. Oftentimes, a previous Caesarian section incision can be utilized and, if needed, the scar may be improved upon.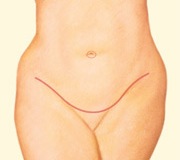 IMPLANT LOCATION
Dr. Burgdorf's Nashville breast augmentations are performed using the "dual-plane" technique, which results in a more natural, youthful appearance with long-lasting results. This advanced surgical technique avoids the appearance of rippling or "operated-on" appearance of other techniques.
"Thank you so much for helping me and being such a nice person. I appreciate all the time you've taken with me over the last few months. God bless you."
Terri K. (mommy makeover)
WHAT TO EXPECT AFTER SURGERY
Most patients tell us they feel better than expected following their mommy makeover because of the long-acting local anesthetics and gentle tissue-handling techniques utilized by Dr. Burgdorf. Any discomfort is easily controlled with oral pain medication. Small and meticulously placed self-absorbing sutures are usually gone within several days.
Patients are able to return to work and social activities within seven to 10 days. Light exercise can be resumed after several weeks, with a full return to most activities after one month. Final results can be appreciated anywhere from six weeks to three months after surgery.
RISKS
When performed by a qualified board-certified plastic surgeon, the risk of serious problems after a Music City Mommy Makeover is rare. Specific risks and the suitability of particular breast and body rejuvenating procedures for a given individual can be determined at the time of consultation. You can reduce your risk of complications by closely following your surgeon's instructions both before and after surgery.
SCHEDULE YOUR CONSULTATION TODAY
To learn if you are a candidate for a mommy makeover in the Nashville or Franklin area, contact board-certified plastic surgeon Dr. Burgdorf at 615-567-5716 for a personalized, private consultation.
Mommy Makeover Photos Web Marketing Powered by Ceatus Media Group LLC
Credits: ASPS